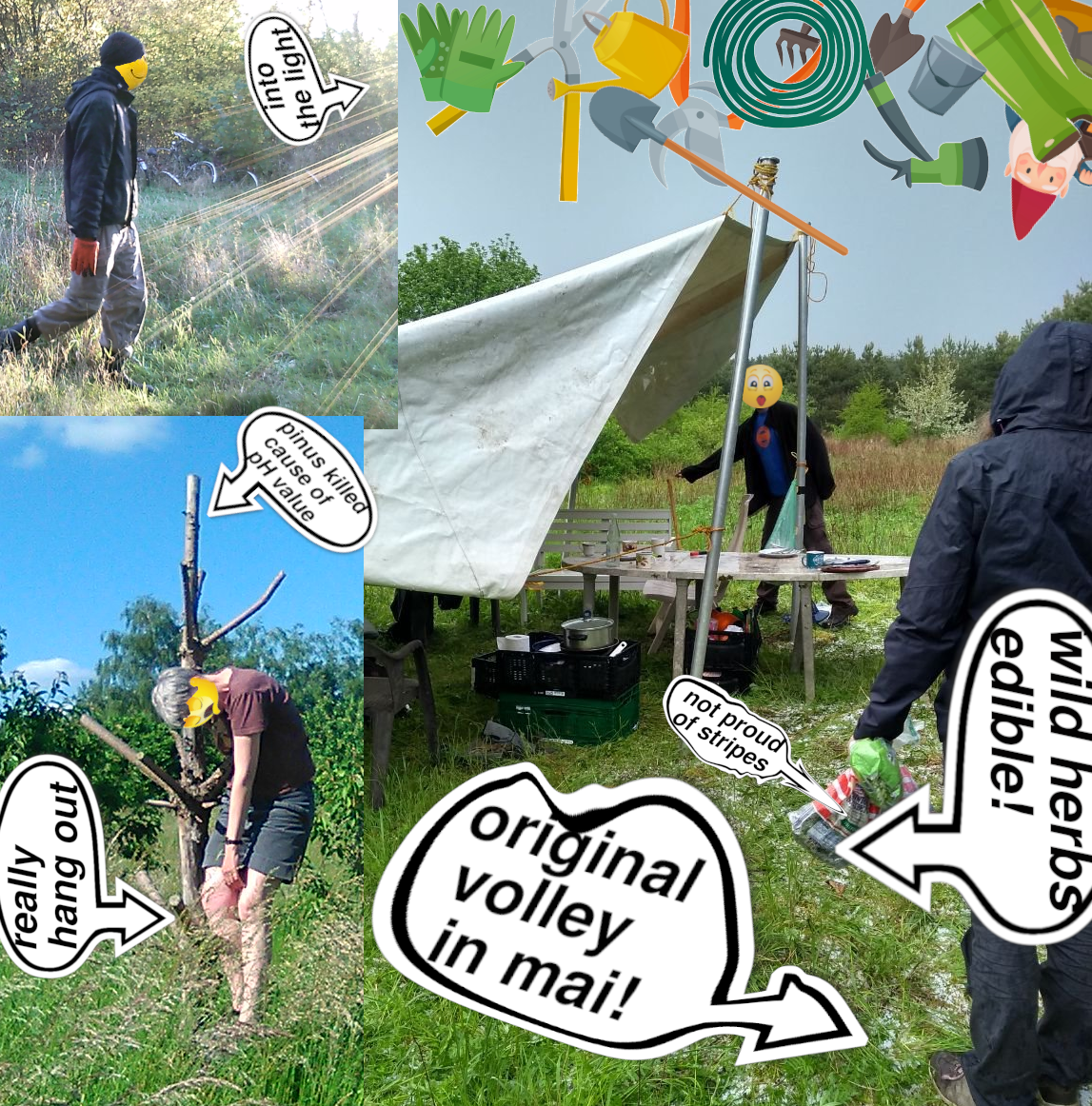 [English version below]
Hallo ihr,
vom 17.–25. Mai öffnen wir unsere Waldgartentore für interessierte Menschen, die Lust haben mit uns zu arbeiten, lernen, essen, lachen… und was ihr so mitbringt: vll Musik machen, Spiele veranstalten, Rätselrunden oder Geschichten erzählen?
Es gibt Tätigkeiten wie jäten, gießen, düngen, konkurrierende Wildgehölze eindämmen, ernten, Wildkräuter sammeln, mulchen, sensen und so weiter. Wir werden auch einen Tag in der gourmet-gaertnerei.de verbringen. Es ist also für alle was dabei – gärtnerisch Erfahrenen wie Unerfahrene, Herzblutgärtner*innen, alte Bekannte und neue Gesichter.
Außerdem gibt es viel Raum für Austausch, Diskussion und zusammen abhängen.
Wir zelten im Waldgarten – ihr müsst euer eigenes Zelt mitbringen und im Garten gibt es kein Wlan, warmes Wasser und richtigen Strom nur in der Stadt (5km weit weg).
Das Essen ist vegan und gibts aus dem Waldgarten, containert oder eingekauft – wenn ihr Unverträglichkeiten und Allergien habt schreibt das gerne bei der Anmeldung dazu. Wenn ihr ganz Spezielles wollt, müsst ihr das selbst mit bringen oder zwischendrin einkaufen.
Hier weiteres Wichtiges:
* Melde Dich verbindlich an, es gibt nur begrenzt Plätze. Du kannst auch nur für einen Teil der Zeit teilnehmen. Sende bei Interesse unbedingt eine Telefonnummer (es gibt dann nochmal ein Telefonat zu bestimmten Orga-Details). Wir erheben ein Anmelde-Pfand.
* Covid ist leider nicht vorbei, daher gilt ein Hygienekonzept, dass wir zu gegebener Zeit dem Inzidenzwert in der Region anpassen. Hier schon mal wichtige Punkte:
– Anreise nur mit negativem Corona-Testergebnis
– wenn ihr länger vor Ort seid, wünschen wir nach 4 Tagen nochmal einen Schnelltest (der wird von uns gestellt)
– wir bitten euch die allgemeinen Hygieneregel einzuhalten und auf Abstand zu achten, auch wenn es draußen ist
* Ein eigenes Fahrrad oder Auto wäre von Vorteil oder du musst 8 km vom Bahnhof bis zum Waldgarten laufen.
* Wetterfeste Arbeitskleidung musst Du selbst mitbringen.
* Der Waldgarten ist ein profeministischer Schutzraum, in dem sich jede*r sicher vor Grenzverletzungen bewegen können soll. Jede*r soll hier an ihren Identitäten selbst basteln können und in keine gedrängt werden. Rumgemacker und Homophobie wären also fehl an den Plätzen. Dafür wollen wir alle gemeinsam Verantwortung übernehmen.
* Leider erscheint uns der Waldgarten als nicht so barrierefrei, aber schreib uns gerne bei Einschränkungen um das im Detail zu klären.
allmendeperma[at]web.de
Hello All,
from May 17th to 25th we will be opening our forest garden gates for those of you who are interested in working with us, learning, eating, laughing… and anything else you want to contribute such as playing music and games, telling jokes or stories…?
There will be activities such as weeding, watering, fertilizing, containing competing wild shrubs, harvesting, gathering wild herbs, mulching, scything and so on. We will also spend a day at gourmet-gaertnerei.de. So there is something for everyone – experienced gardeners as well as inexperienced, heart and soul gardeners, old acquaintances and new faces. There will also be plenty of room for exchange, discussion and hanging out together.
We will be camping in the forest garden – you have to bring your own tent and there is no wifi in the garden, hot water or real electricity (you will only find this in the town, which is 5km away).
The food is vegan and comes from the forest garden, dumpstered or purchased – if you have intolerances or allergies please write that on the registration. If you want something special, you have to bring it yourself or buy it in between.
Please note the following:
* There is only a limited number of places, so if you register you are expected to attend. You can also participate for part of the time. If you are interested, please send us your phone number (there will be another phone call for specific organizational details). We charge a registration deposit.
* Covid is unfortunately not over, therefore hygiene measures are implemented and adapted according to the incidence in the region
Here are some important points:
a negative Corona test result is mandatory upon arrival.
if you are on site for a longer period of time, we will ask you to take another quick test after four days (we will provide one)
we ask you to observe the general hygiene rules and to keep your distance, even if it is outside
Your own bike or car would be an advantage or you have to walk 8 km from the train station to the forest garden.
You must bring your own weatherproof work clothes.
The Waldgarten is a profeminist shelter where boundaries must be respected. Everyone should be able to express their own identities and not be forced into any. Likewise there is no room for homophobia and racism. We are all responsible for making sure this is a safe place where diversity is embraced.
Unfortunately, the forest garden is not easily accessible , but if you let us know about any special needs, we will send you details.
allmendeperma[at]web.de