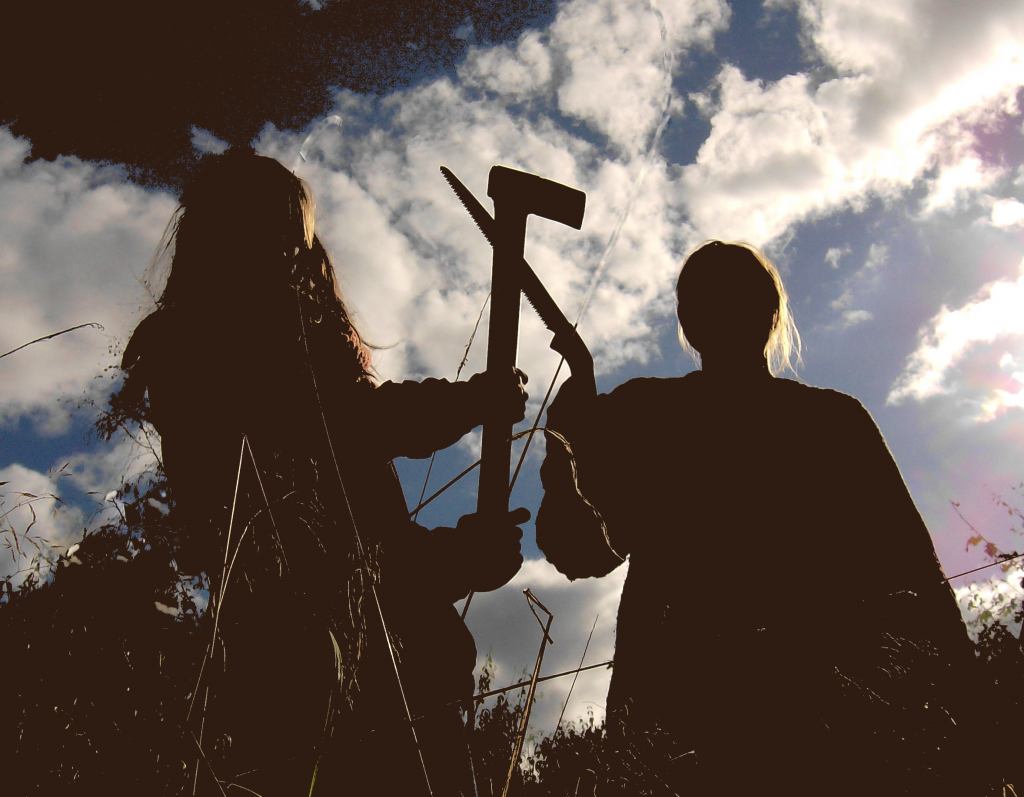 Winter-Camp 15.-19.12.2016
(english below)
Heuer machen wir zum ersten Mal ein Winter-Camp! Unterbringung ist vorsichtshalber in beheizbaren Räumen. Nah an der Wintersonnwende werden wir vielleicht im Dunkeln aufstehn und um halbfünf ists schon wieder dunkel. Die Zeit dazwischen werden wir neben Vesper in gefütterten Stiefeln hauptsächlich damit verbringen, den wilden Urwald im Waldgarten zu bekämpfen. Zitterpappeln, Eichen, Birken, Haseln breiten sich schneller aus als uns lieb ist! Abends gibts es viel Raum für Austausch, Diskussion, Musik, Kochen und zusammen abhängen.
Wir laden Dich herzlich dazu ein unser Waldgartenprojekt kennenzulernen und mit uns die schöne Winterzeit zu genießen! Wir freuen uns über Besuch von gärtnerisch (noch) Unerfahrenen, über Herzblutgärtner_innen, alte Bekannte und neue Gesichter!
Folgende Wünsche haben wir an die Teilis:
* Melde Dich zügig und verbindlich an. Es gibt nur begrenzt Plätze. Du kannst auch nur für einen Teil der Zeit teilnehmen. Sende bei Interesse unbedingt eine Telefonnummer (es gibt dann nochmal ein kurzes Telefonat zu bestimmten Orga-Details).
* Wir wünschen uns eine finanzielle Beteiligung nach
Selbsteinschätzung an Essenkosten (die werden niedrig sein, es gibt einiges Containertes und Gespendetes).
* Du brauchst warme Kleidung! Dazu gehören erfahrungsgemäß atmende Schuhe, die so groß sind dass Du problemlos mit 2 Paar dicken Socken reinpasst (notfalls 3). Es kann auch regnen…
* außerdem brauchst Du ein eigenes Fahrrad oder Auto.
* Der Gartenstart ist ein profeministischer Schutzraum, in dem sich jede*r sicher vor Grenzverletzungen bewegen können soll. Jede*r soll hier an seinen Identitäten selbst basteln können und in keine gedrängt werden. Rumgemacker und Homophobie wären also fehl an den Plätzen. Dafür sollen alle gemeinsam Verantwortung übernehmen.
allmendeperma[at]web.de
winter gathering 15.-19.12.2016
This year we're doing a winter gathering in the forestgarden for the first time! Housing is in heated rooms to be on the safe side. Near to winter solstice we're probably get up in the dark and at half past 4 it's dark again. The time in between we're gonna spend (besides having picnic) fighting the wild jungle in the forestgarden. Trembling poplars, oaks, birches, hasels are spreading faster than we like. In the evenings we can learn from each other, spend time in the group, discuss, cook, party and hang around.
We are looking forward to meeting people from other gardening projects as well as interested people without any knowledge, to meeting the ones we already know as well as new people!
From participants we request the following things
* announce early and binding. There are only limited places. You can also take part only for a certain time of the gathering.
* we wish a fee for the costs of the food (they're gonna be low, there's gonna be some dumpsterdiving and donations).
* You'll need warm cloth! Empirically respiring shoes are good that are big enough so you can wear at least 2 pair of thick socks easily. And it also can rain at that time of the year…
* You need a car or a bike to be mobile.
* The gathering is a pro-feminist space. Everyone should be able to feel good on the camp and so should be save from violations of his or her personal borders. Everyone should be able to tinker with his or her own identity and shouldn't be pushed into a certain one. So bloke-behavior and homophobia would be out of place. For these things everybody should take responsibility.
allmendeperma[at]web.de